Top 10 Keys for Your Social Media Playbook
by Mike Kitchel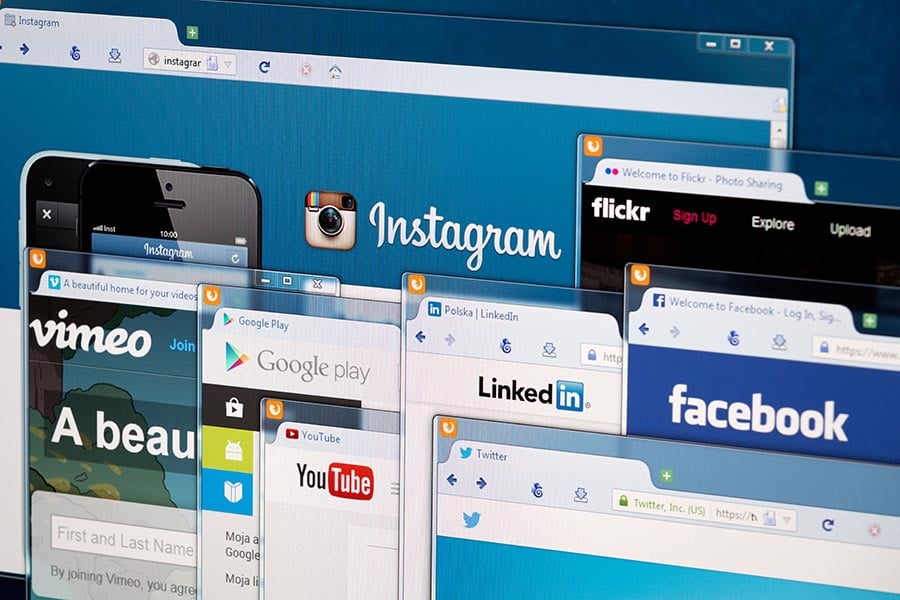 Social media has exploded – and continues to expand – as one of the most essential components of any brand's marketing plans. Never before have you been able to engage so directly with your customers and fans.
For some newcomers, social media is an intimidating world and the thought of simply getting started can be overwhelming. For others, blindly jumping into this adventure gung-ho and guns blazing can backfire and make you look like a complete novice.
An effective startup plan falls somewhere in between. Sure, you need to do some homework before you dive in, but you also don't need a PhD before you're allowed to hit 'send' on a social media post.

It's a fine balance – and we're here to help you navigate through these uncertain waters.
Your Playbook: Stay Creative, Inside the Lines
To get started, let's think of social media like a football game. There is an open playing field – that's completely yours. You do have some boundaries, a goal line, officials and a general set of rules for the game. And, based on your strategy and the different situations you face on a daily basis, you're going to play offense some of the time and defense some of the time. But, between those lines, you have absolute freedom to create whatever kind of strategy you want.
The playbook is yours to design. Social media allows you to execute any kind of offense and any kind of defense that best suits the goals for your team. Understand and embrace this freedom, while respecting the fact you have to stay within the field of play. Often times, the more creative and original you are, the more success you will have. But you also must be able to understand and execute on some of the basics in order to be successful.

To get you started we've created the "Top 10 Keys for Your Social Media Playbook" that are listed below. Use these as a starter set of guidelines as you begin to learn how to play the social media game.
Have a Strategy

This sounds simple, right? As shocking as it sounds – a lot of brands don't have a formal strategy. It's insanely important. From the outset, create a playbook for your brand that sets a road map for you to follow throughout the year.

Start by setting attainable goals: Targets for growth in your followers, expectations for overall engagement and establish year-to-year comparisons to ensure you're making incremental improvements each year.

Develop a Content Strategy: Create a content calendar that builds in a combination of scheduled & spontaneous posts.

Scout your competition. Steal what you like. Discard what you don't.

Understand your audience. Focus on the specific social channels, and the type of content, that is relevant to them.

Your strategy will be the playbook to help you create a drumbeat of social content. Stick to it and make music.


Exercise Your Freedom

Be Creative. Be Unique. Be Different.

The social media pool is huge. Don't let yourself drown. You have limitless creativity.

Stand on tables. Kick over chairs. Light things on fire.

But, no matter what, make sure what you're doing is aligned with your brand. Just because you make your own rules on social media doesn't mean anything goes. You have to set your own standards for what you want your brand to be on social – and then you have to stick to those standards while still exercising the freedom the platform allows.


One Voice

Establish one voice for each social channel. Be the brand. Don't deviate.

Arrange your social media team so each person operating your accounts understands the brand voice. The tone of your posts is always the brand, not the individual who is posting that day.

Divide responsibilities amongst your team so your channels are ALWAYS being monitored. Social media is a 24/7 business.


Create Your Own Traffic

Inbound marketing: This is where you can incorporate your entire brand content strategy into your social media plans.

Your social channels can be an effective vehicle to ensure your posts are driving traffic back to your website.

Create a content strategy that includes features, blogs, videos, polls and other ways to engage your audience.

Social is the appetizer. Your website is the entree.


Tracking is Vital

Social analytics are vital – and they can be the key to helping you understand where your strategy is and isn't working. Follow your traffic trends. Analyze where your audience is most responsive.

Evolve. Learn. Grow. Change your strategy accordingly to maximize what you learn. Evolve your strategy and stay aligned with your goals.

Most social media platforms have native analytics that can be leveraged. And focus on the external tools on those that allow aggregation of data across platforms.

There are also external measurement tools depending upon your specific needs, including: Hootsuite, Sprout Social, Databox and others. Find a solution you are comfortable with and use it effectively.


Ride the Trend

Understand what your audience – and the social realm as a whole – is talking about and engage them on what's topical.

Insert yourself (creatively) into trending conversations. Relevant hashtags and otherwise engaging topics.

'Newsjacking' is strategically capitalizing on the popularity of a trending news story to amplify your own goals. If there is a way to fit your message into a popular conversation – do it.


Be Responsive

Engagement is huge.

Your audience must understand that you are engaging, responsive and available to answer questions, provide commentary or otherwise have a consistent voice in the ongoing social conversation.

When you go quiet you get forgotten. Be a consistent part of the conversation.


Budget for Growth

Social media has reinvented advertising.

Organic growth is real – and work hard to earn followers - BUT don't be shy about investing in your growth too.

Target your audience. Boost your posts. Buy ads.

Your ability to target the exact audience you want to engage has never been easier. Use Big Brother to your advantage.


Don't Be Dumb

Social media horror stories are everywhere. Don't be the next viral embarrassment. Don't know what I'm talking about? Google news stories about Buffalo Wild Wings' Twitter account.

Understand Warning Signs: Underqualified employees managing your accounts? Multiple accounts on your phone are easy to mix up. Lazy passwords are easy to figure out. When sending a DM, make sure you're sending a DM. When you have employee turnover on your social media staff – change your passwords. Angry former employees with an axe to grind can be dangerous. The landmines are everywhere – be proactive about protecting yourself from a potential nightmare.

Now, there is a fine line between being dumb and being brilliant. And you have to be careful. The Wendy's Twitter account has managed to carve out a hilarious niche in the social media realm. They can be funny, troll their competitors, and – for the most part – they've been well received. It's a fine line, and if this is part of your strategy, proceed with caution and stay classy.

Be aggressive about protecting yourself. You can ruin years of hard work and growth with one simple mistake.


Stay Ahead of the Curve

Social media changes every single day. Sharpen your tools. Bust your butt to keep up.

Stay on top of what changes during app updates, new features that are added, new mediums that arrive and what is hip in this moment.

You can hit the first nine topics on this list right on the head, but if you skip this step, you'll find yourself updating a MySpace page while the rest of the world blows right past you.