Using LinkedIn to Maximize the Visibility of Your Content (Without Paid Ads)
by Alexa Godwin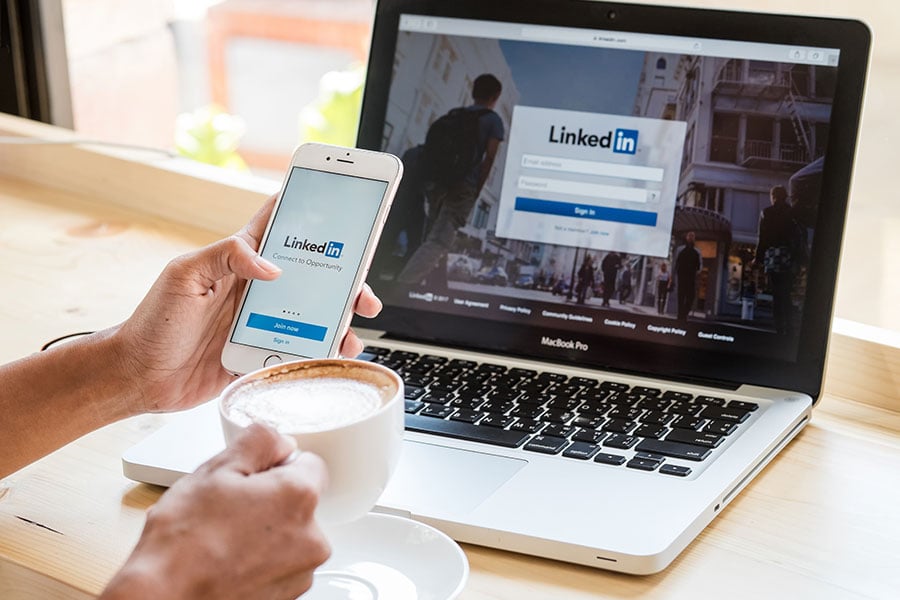 When you think of LinkedIn do you instantly think of job hunters and recruiters? While you are correct that LinkedIn is an active spot for all things jobs-related, the folks at LinkedIn have been actively working to become a business news and high-quality content sharing platform as well. With more than 610 million users, the largest global community of business professionals, and 15x more content impressions than job postings, LinkedIn is prime real estate for your awesome content.

Since you're already writing engaging, thought-leadership content and posting on your own blog, it would be silly to not try to reach some of those 610 million sets of eyeballs by posting your content for free on LinkedIn. But it is not as easy as posting promotional links on LinkedIn that point back to the content hosted on your site.
That's because these social media platforms want to make money and their goal is to keep users within the confines of their platform for as long as possible. Posts that send visitors off site are de-prioritized within their algorithms, reducing their visibility. Therefore, to make your content as visible as possible on LinkedIn, you will need to figure out how to "work the system".
How to Best Post Organically
The feature on LinkedIn that used to be referred to as LinkedIn Pulse has morphed into a complete publishing platform for organic content and is now available to all LinkedIn users. As you'd guess, LinkedIn would prefer that you create and publish content on their platform and will reward users that do so with increased visibility over those who are simply directing people to their blogs offsite. This new feature is called Articles and can be accessed via a link at the bottom of the "create a post" box at the top of your feed.
Here are our tips to make the most out of publishing organically on LinkedIn's native publishing platform:
Use an image with every single post! We are all visual creatures and are drawn to engaging images. Don't let your image be an afterthought as it can be the thing that draws the reader in.

Hot tip – Use caution when selecting the option that stretches your image the whole size of the screen. If not sized appropriately, this can make your image look stretched out.


Choose your title carefully and use your important keywords. Use the same best practices here as you would when creating titles for you blogs (or other) content. You want the algorithm to clearly know what your article is about and to do so you need your important keywords within the title as well as within the body of your article.


Use subheaders within your article so that is easy to read and has a good flow – remember how you like to read a blog article and essentially structure it the same.


Link to your other articles you have written, where it makes sense, so that you can further establish that you are an expert in your industry.


Include a call-to-action at the end of the content that drives users back to your blog! This is huge and doesn't seem to carry the same algorithmic penalty as purely promotional posts that link off site.


Tag people that you quote, if you use quotes, as this will increase the likelihood that they will share your content.
Next Up - Engaging
So, you now have your article posted organically like the boss you are. Now what? Time to engage! The best way to draw interest in your great content is to show interest in others' content and do it in a meaningful way. Don't just go give basic comments that seem bot-like but actual thought-provoking comments and you will definitely grab people's attention. Explore the Today's News and Views section, top hashtags in your field, and even your newsfeed to find interesting content to engage with. Hey, you'll probably even learn something cool while you're at it!

Also, don't forget to engage with and respond to every, and we mean every, comment on your own content in a thoughtful way! You have spent time on your content, and someone took the time to read it – capitalize on that. At best, this is a great place to nurture any new leads and further grow relationships, at worst it is a great way to further your reputation as an active thought leader in your industry.

Ultimately, content visibility is absolutely crucial to your digital marketing success. We are in the midst of an era where competition for eyeballs is at an all-time high, and organic reach on social platforms continues to decline when best practices are not followed. The easy tips and tricks to get more out of your content on LinkedIn included in this post are just some example of how we must always keep learning and adapt to the changing digital marketing landscape.

Happy writing, sharing, commenting, posting, and growing!