What is Inbound Marketing and Why Should I Care About It?
by Kevin Hofer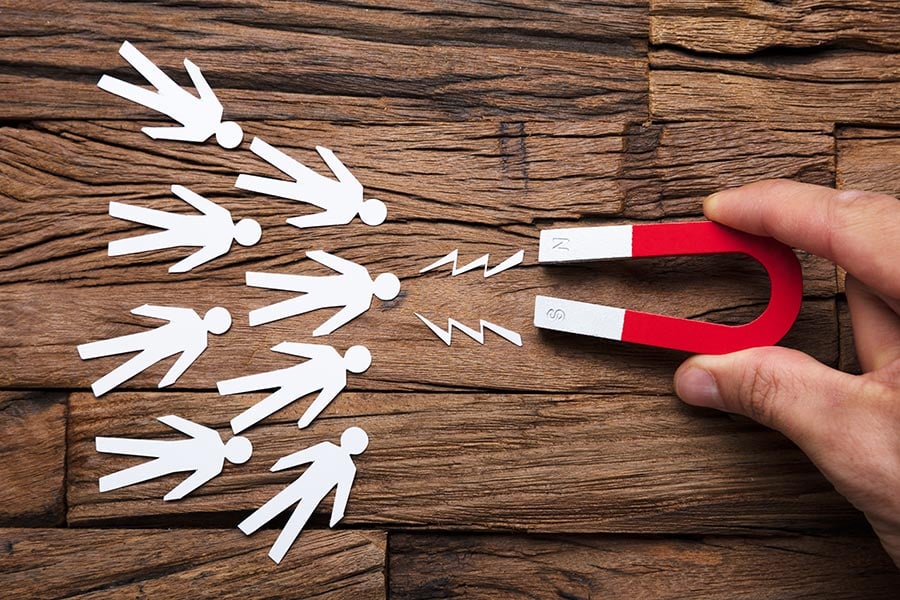 Traditional marketing is dead. Or at least, it should be.

Let me illustrate through an example. As you're reading this, imagine you get a phone call and the conversation goes something like this:

You: "Hello?"

Stranger: "Hi, I'd like to take a few minutes to tell you about Brand X refrigerators. Our fridges keep your stuff as cool as you are. Would you like to buy one?"

You: "But I don't need a new refrigerator, mine works just fine."

Stranger: "Ah yes, but does yours have three crisper drawers and independent temperature control zones?"

You: "Um, I don't NEED, nor do I WANT, a new refrigerator."

You get the point. How would you feel after a phone call like that? Unless your refrigerator was actually broken and you were in the market for a new one (when's the last time you shopped for a fridge?), you would likely feel pretty annoyed.

But this is how the traditional marketing machine works. It's interruptive and attempts to push products or services on customers.

Traditional marketing, or as some now call it "Outbound Marketing", isn't limited to just cold-calling like the example above. It includes any similar tactic where the company is attempting to push their message OUT (far and wide) like trade shows, direct mail, email blasts, and even print (or online) advertising. The hope is that the message resonates with that needle in a haystack.

This type of marketing is not only costly, the ROI is relatively low, or can't be measured at all. There has to be a better way, right?
The customer is in control
In the last few years, technology has completely changed the game in terms of how people discover, research and buy products and services. Today, buyers are now much more in control of the information gathering and decision making process. Sales people are no longer the gatekeepers of information.

Building on the refrigerator analogy for a moment, let's say your refrigerator DID break. What's the first thing you are likely to do? Some may head to a big box store to take a look at the products that are available. However, a more common action taken in this case is to head online and search for "best refrigerators", or "cheapest refrigerators". Consider the following statistics:
81% of shoppers conduct online research before making big purchases. (Retailing Today, 2014)


71% of B2B researchers start their research with a generic search. (Google, 2015)


B2B researchers do 12 searches on average prior to engaging on a specific brand's site. (Google, 2014)


48% of consumers start mobile research with a search engine. (Smart Insights, 2016)


By 2020, customers will manage 85% of their relationships with a company without talking to a live person.
The smart marketer recognizes and understands these trends and adapts their marketing tactics to capitalize on this behavior. They strive to deliver the right (marketing) message, to the right person, at the right time. Enter Inbound Marketing.
Inbound Marketing Defined
Inbound has existed for some time, we just didn't call it that, exactly. Forward thinking digital marketers who used a combination of marketing channels - most commonly content marketing, SEO, social media and email - to try and attract a customer's attention were "doing Inbound" before it was called Inbound.
"Inbound marketing is focused on attracting customers through relevant and helpful content and adding value at every stage in your customer's buying journey. With inbound marketing, potential customers find you through channels like blogs, search engines, and social media.
Unlike outbound marketing, inbound marketing does not need to fight for potential customers attention. By creating content designed to address the problems and needs of your ideal customers, you attract qualified prospects and build trust and credibility for your business."
HubSpot coined the term "Inbound Marketing" in 2006, and they are the power behind the inbound movement. There's even a stand-alone conference dedicated to Inbound, now in it's 7th year. Incidentally, as a certified HubSpot Partner agency, we will be attending the Inbound conference this year.

There are two key concepts at the center of Inbound Marketing. The first is the Inbound Methodology, which we will cover in detail below. The second is the Buyer's Journey, the process buyers go through to become aware of, evaluate, and purchase a new product or service. This is a three-step process.
The Buyer's Journey
Awareness Stage: The buyer realizes they have a problem.


Consideration Stage: The buyer defines their problem and researches options to solve it.


Decision Stage: The buyer chooses a solution.
The graphic below illustrates a sample buyer's journey for the simple purchasing decision of a doctor visit during an illness.


The inbound methodology
HubSpot deems the inbound methodology as the the best way to turn strangers into customers and promoters of your business. Here we examine each of the four stages of the methodology and specific tactics that can be deployed at each stage.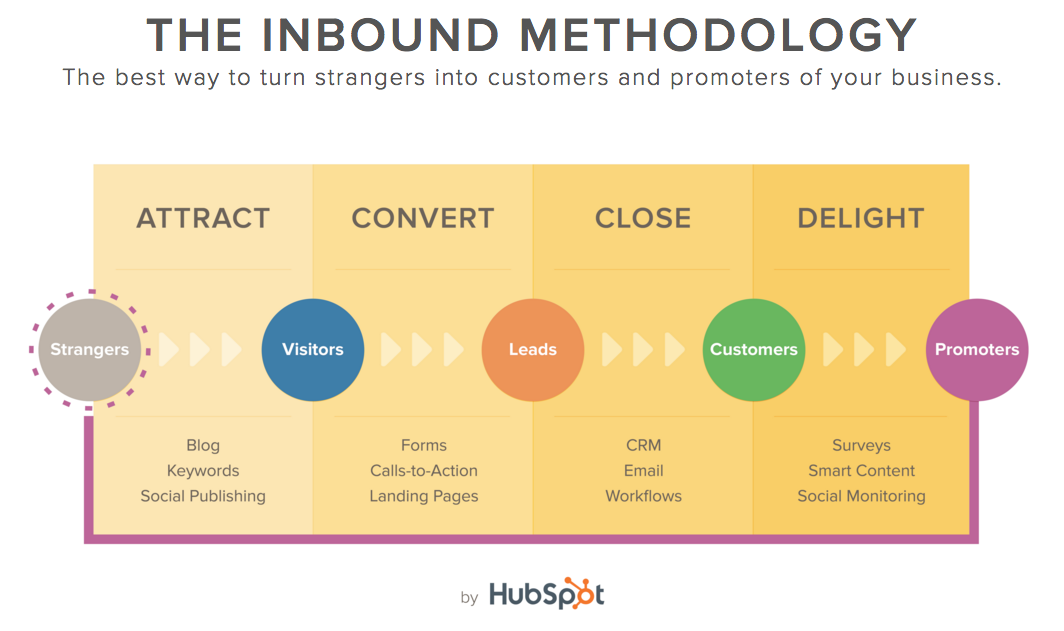 Attract
We don't want just any traffic to our site, we want the right traffic. We want the people who are most likely to become leads, and, ultimately, happy customers. How do you get them? You attract more of the right customers with relevant content at the right time – when they're looking for it.
Some of the most important tools to attract the right users to your site are:
Blogging. Inbound marketing starts with blogging. A blog is the single best way to attract new visitors to your website. In order to get found by the right prospective customers, you must create educational content that speaks to them and answers their questions.


Content Strategy. Your customers begin their buying process online, usually by searching to find something they have questions about. So, you need to make sure you're showing up when and where they search. To do that, increase your presence with tools that help you define and implement your content strategy.


Social Publishing. Successful inbound strategies are all about remarkable content - and social publishing allows you to share that valuable information on the social web, engage with your prospects, and put a human face on your brand. Interact on the networks where your ideal buyers spend their time.
Convert
Once you've attracted website visitors, the next step is to convert those visitors into leads by gathering their contact information. At the very least, you'll need their email addresses. Contact information is the most valuable currency there is to the online marketer. So in order for your visitors to offer up that currency willingly, you need to offer them something in return! That "payment" comes in the form of content, like eBooks, whitepapers, or tip sheets - whatever information would be interesting and valuable to each of your personas.
Some of the most important tools in converting visitors to leads include:
Forms. In order for visitors to become leads, they must fill out a form and submit their information. Optimize your form to make this step of the conversion process as easy as possible.


Calls-to-Action. Calls-to-action are buttons or links that encourage your visitors to take action, like "Download a Whitepaper" or "Attend a Webinar." If you don't have enough calls-to-action or your calls-to-action aren't enticing enough, you won't generate leads.


Landing Pages. When a website visitor clicks on a call-to-action, they should then be sent to a landing page. A landing page is where the offer in the call-to-action is fulfilled, and where the prospect submits information that your sales team can use to begin a conversation with them. When website visitors fill out a form on a landing page for the first time, that visitor becomes a contact.
Close
You're on the right track. You've attracted the right visitors and converted the right leads, but now you need to transform those leads into customers. How can you most effectively accomplish this feat? Certain marketing tools can be used at this stage to make sure you're closing the right leads at the right times.
Closing tools include:
CRM. Keep track of the details about all the contacts, companies, and deals in your pipeline, and easily get in touch with the right prospects at the right time. Customer Relationship Management (CRM) systems facilitate sales by making sure you have the right information at your fingertips to better engage with prospects across every channel.


Email. What do you do if a visitor clicks on your call-to-action, fills out a landing page, or downloads your whitepaper, but still isn't ready to become a customer? A series of emails focused on useful, relevant content can build trust with a prospect and help them become more ready to buy.


Marketing Automation. This process involves creating email marketing and lead nurturing tailored to the needs and lifecycle stage of each lead. For example, if a visitor downloaded a whitepaper on a certain topic from you in the past, you might want to send that lead a series of related emails. But if they follow you on Twitter and visited certain pages on your website, you might want to change the messaging to reflect those different interests.
Delight
The Inbound way is all about providing remarkable content to our users, whether they be visitors, leads, or existing customers. Just because someone has already written you a check doesn't mean you can forget about them! Inbound companies continue to engage with, delight, and (hopefully) upsell their current customer base into happy promoters of the organizations and products they love.
Tools used to delight customers include:
Surveys. The best way to figure out what your users want is by asking them. Use feedback and surveys to ensure you're providing customers with what they're looking for.


Smart Calls-to-Action. These present different users with offers that change based on buyer persona and lifecycle stage.


Smart Text. Provide your existing customers with remarkable content tailored to their interests and challenges. Help them achieve their own goals, as well as introduce new products and features that might be of interest to them.


Social Monitoring. Keep track of the social conversations that matter to you most. Listen out for your customers' questions, comments, likes, and dislikes – and reach out to them with relevant content.
Is Inbound Right For You?
Inbound marketing is a great fit for a lot of companies, but it's not for everyone. Some key factors to consider when evaluating the inbound approach, and if it will work for your business:
Do your target customers actively research products before buying them? In other words, is the act of buying your product a "considered buying process".


Is your organization open to sharing insights, and teaching your prospects about issues related to your product or service, even if this means competitors can see this content?


What is the lifetime value of your customer(s)? Adopting an inbound approach requires a level of investment that just may not be realistic if customers generate less than $500/year for your business.