INBOUND18 Recap - The Future of Inbound is Now
by Kevin Hofer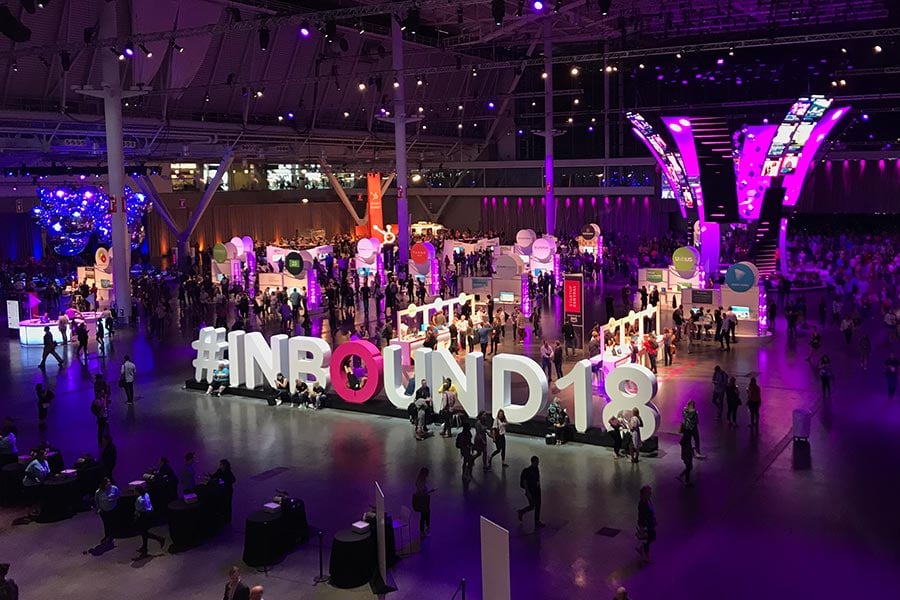 We just returned from HubSpot's annual INBOUND Conference. Where roughly 24,000 gather to learn about the latest trends in marketing, selling and delighting customers (in an inbound way) and then leave inspired to return to work and - in HubSpot's words - "grow better".
This was our second (consecutive) year attending the conference, and the first time as a Certified HubSpot Partner Agency. All of HubSpot's partners are invited to a bonus day of the conference - at the start of the week - where we get a sneak peak at the product announcements that will drop in the coming days, and also get access to another day of programming specifically geared at partners.
The week is such a whirlwind. There's always so much great content to consume, so many great keynote speakers who inspire, that you often walk away with your brain so packed with goodness that it's hard to parse it all, and figure out which learnings are actionable. With the event now a couple of days in the rear view mirror, a few thoughts have stuck with me. Here are my top take aways (which certainly may differ from yours) from the 2018 of edition of Inbound.
1. From Funnel to Flywheel
The co-founder's keynote is always one of my favorite sessions of the entire week. HubSpot's founders Brian Halligan and Dharmesh Shah are equal parts brilliant thinkers and public speakers, so their keynote is as informative as it is entertaining. They each take the stage on their own for about 45 minutes addressing a specific topic.
One of the major themes of this year's conference is how to "grow better", and Brian Halligan's keynote address was centered on this theme. During his keynote last year, Halligan noted that it's easier than ever to launch a start-up. However, it's harder than ever grow that business and scale up. That is still the case, but Halligan presented his case for how businesses can grow (better) in 2019, 2020 and beyond.
Just as they did when they started the company in the mid-2000's, HubSpot has noticed another shift in the marketplace when it comes to how customers are buying today. Until recently, Halligan claims, the loudest voice in the buyer's head - when it came time to make a buying decision - was sales and marketing.
This was great news for us sales and marketing types, because it meant that "inbound" was working. However, over the last two years, the landscape has shifted to the point that word of mouth is now a more powerful channel than sales and marketing.
How do you get your sales and marketing to shift from closing customers to delighting customers? This is the key to growing your business in 2019, 2020 and beyond." - Bryan Halligan
The reasoning is obvious, once he lays it out. Nobody trusts anyone anymore. With trust in sales and marketing at an all-time low, customers are turning to the people they trust the most when it comes to buying decisions … their friends.
This shift has exposed a major flaw in the funnel metaphor. Traditionally, we've always thought of customers as output from the marketing funnel. Today, however, with "delight" as the loudest channel in the market, customers are not an output, they are an input, ultimately feeding a company's growth. The funnel is not a straight line, but a circle where the cycle of attract, engage and delight never ends.
Enter the flywheel.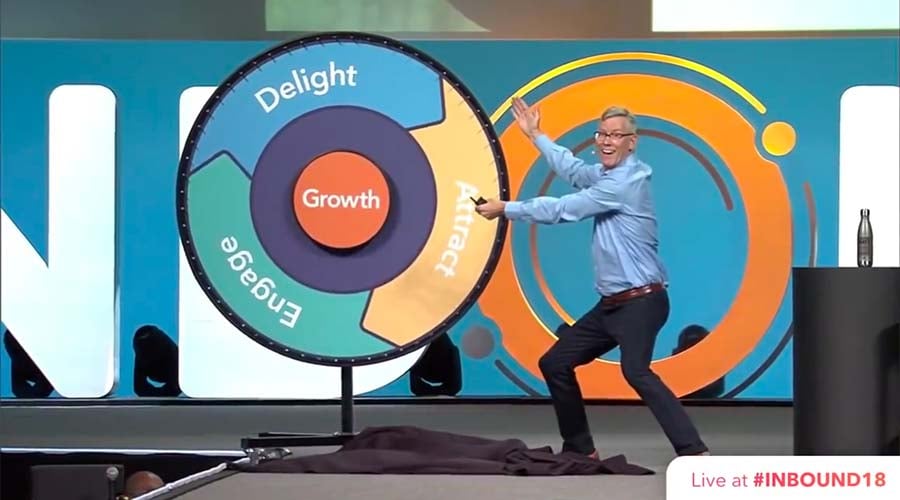 Brian Halligan, and the flywheel reveal, on stage at INBOUND 2018.
After teasing the flywheel concept last year, HubSpot has now gone all-in on this model. So much so that they cheekily wished "Ye Olde Funnel" a happy retirement during the keynote this year.
Halligan's New Growth Model
Embrace the flywheel
Put your customers at the center of what you do.


Focus on delight
Keep investing in sales and marketing, but invest heavily in delighting your customers. Shift your sales and marketing resources slightly such that they are not only focused on closing customers, but delighting them.


Get the friction out
The lower the friction in your model, the fast you're going to grow. It used to be, if you wanted to be successful, your product has to be 10x better than the competition. Today, to be successful, your customer experience needs to be 10x lighter than the competition.
Your marketing funnel doesn't work in a consumer-centric world. The globe keeps turning even after conversion. Thus, we've created the flywheel, a new way of thinking about how customers interact with your business at every stage. #funneltoflywheel https://t.co/G7swCtkQPM pic.twitter.com/KjMUJpsfUe

— HubSpot (@HubSpot) May 10, 2018
In the second half of the founders' keynote, Darmesh Shah took the stage and presented his funniest talk to date. While Halligan outlined the mechanics of growing better, Shah explored the philosophy behind the "Grow Better" mantra. Ultimately presenting The Customer Code, a blue print to help businesses do just that.
This evolved from an idea in HubSpot's Culture Code deck - that, incidentally, Shah also created.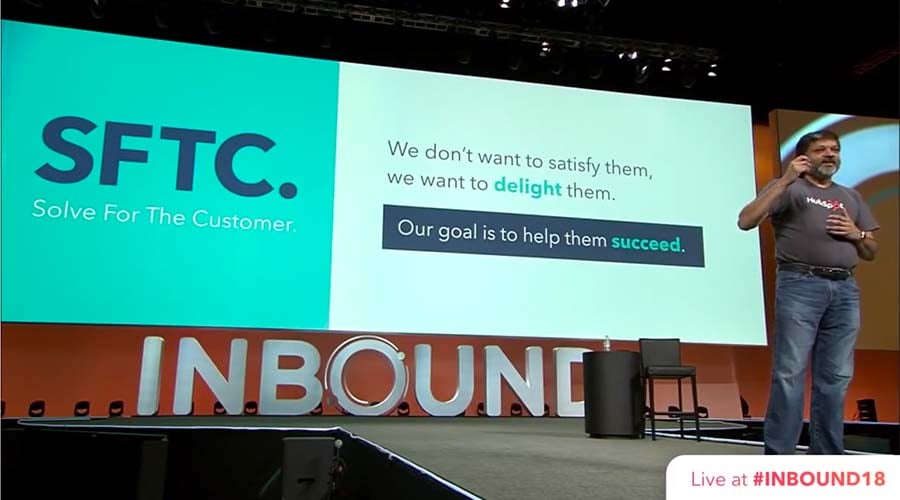 Dharmesh Shah, on stage at INBOUND 2018.
The biggest lesson I've learned in my career about growing better, came from an idea in the culture code deck. Solve for the Customer. To grow better, you need a culture that puts the customer first." - Dharmesh Shah
Shah, and the HubSpot research team set out to determine what customers want from their experience. Here are the top five take aways from that research:
Earn my attention, don't steal it
Give me something of value before you take something I value (like my time).


Solve for my success not your systems
Don't make your process my problem.


Own your screw-ups
We all make mistakes. Just say sorry, be sorry and make it better.


I don't mind paying, but I do mind being played
Make your pricing open, clear and fair.


Don't block the exit
You made buying so easy. Don't make leaving so hard.
How Do You Grow Better? The answer is simple. Not easy. But simple. Do the Right Thing. Even When It's Hard. Especially When It's Hard.
Customer love is the most powerful force you can apply to your flywheel." - Dharmesh Shah
As an aside, HubSpot got to put the Customer Code to work sooner than they probably liked. During the conference, we got news of a major outage for some enterprise customers. To their credit, HubSpot practiced what they preached and owned it. Here is the official response from JD Sherman, HubSpot's President and COO:
https://blog.hubspot.com/customers/were-sorry
2. The evolution of HubSpot as a platform
What started initially as an app, HubSpot expanded to a suite of products, and has now evolved into a "platform". This evolution is a reflection of the flywheel, although a cynic may argue the flywheel is a reflection of the evolution of HubSpot's model. In any event, with the product announcements at this year's Inbound conference, HubSpot now has complete coverage for your company's flywheel, across the marketing, sales and service functions.
You can learn all about What's new in the HubSpot Growth Platform in this post from HubSpot.
What's more, HubSpot is now just as capable of working with a small, two-person start-up as they are a giant company. The launch of the enterprise sales and service products, and the functional upgrades to the marketing enterprise product allow them to reach up market in a way they've not been able to do until now. Ultimately, this makes it easier for their customers to scale-up, all within their ecosystem.
3. Video
By now, you've certainly seen all the stats and heard all the hype.
By 2021, 82% of consumer internet traffic will be video (Cisco, 2018)


20% of people will read the text on a page, but 80% of people will watch a video. (My SMN, 2017)


After watching a video, 64% of users are more likely to buy a product online. (Forbes, 2017)
If you've been paying attention to the marketing landscape at all over the last two years, these numbers won't surprise you. Many have made the claim that video is currently the best way to connect with consumers. It's the closest to a human interaction that you can get, without actually interacting with someone in person.
Despite the hype, the integration of video content into sales and marketing strategies has been slower than predicted. There were predictions back in 2016 that video content would account for 80% of all web traffic by 2019. Note that the similar stat above pushes that timeline out two more years.
In my opinion, this is largely due to execution difficulties (underestimating costs, getting organizational buy-in, difficulty in calculating ROI, etc.) more than a lack of belief in the approach. Some of the breakout sessions at the conference tried to address this, digging into video marketing strategy and how companies can put it to work for them.
HubSpot also really put their money where their mouth is when it comes to video and video marketing. They used the INBOUND Conference as a springboard to launch a series of features that they claim is the "videoification" of the HubSpot platform. The video features - enabled through partnership with Vidyard - will be available at the professional and enterprise tiers, throughout the entire platform (i.e. marketing, sales and service).
https://blog.hubspot.com/customers/introducing-hubspot-video
4. Conversational Marketing
There's no question that one of the most hyped, and talked about, technological trends in 2018 is the chat bot. Chat bots are computer programs embedded into websites, applications or instant messengers that are intended to simulate conversation with human users.
Gartner forecasts that by 2020, over 85% of customer interactions will be handled without a human


69% of consumers prefer chatbots for quick communication with brands (Salesforce, 2018)


77% of people prefer bots for content discovery (Brian Bagdasarian)
These chat bots are starting to pop up everywhere. Strategically, it makes sense, as you can leverage these bots to automate specific tasks - and remove friction from your system (Halligan would be proud!).
But not all of them are being deployed successfully. In fact, there are so many examples of failing bots that a website has been created for the explicit purposes of outlining why certain bots fail: https://chatbot.fail/.
In a lot of cases, the failure is the result of chasing the "new shiny thing" - meaning, the technology - and just implementing it without any grounding in an underlying strategy.
And what should that strategy be? A Conversational Marketing Strategy. HubSpot defines conversational marketing as the ability to have 1:1 personal conversations across multiple channels – meeting customers how, when, and where they want. This is accomplished with live chat, bots, etc. - basically any channel in which a customer wants to communicate with your brand.
It was during a breakout session hosted by Brian Bagdasarian, one of HubSpot's conversational marketing champions, where the light bulb went off for me. Conversational Marketing strategy is all about one-to-one relationships at scale.
That's what inbound is. Delivering the right message, to the right person, at the right time. Ultimately, we need to design systems, and implement technological solutions that achieve that goal. In that sense, this isn't really anything new, it's just a new means to an old end.
5. It's Always Been a Matter of Trust
I'm a big Billy Joel fan, so excuse the reference, but I wanted to close with some thoughts on another topic that seemed to weave it's way through different portions of the conference. And that is, the importance of "trust" when it comes to building your business.
Certainly Brian Halligan hinted at this during his keynote. As we look to scale up our businesses, we need focus on creating exceptional, low-friction experiences to delight our customers. Ultimately, leveraging the trust that our delighted customers have with their friends to continue to make our flywheels spin.
And, there was this concept again, during Marcus Sheridan's compelling breakout session on creating "Contagious Content". He outlined seven keys to doing this, but it really could have been summarized in one word. Trust. "The building block of all businesses".
The seven keys that Sheridan outlined in his talk were all focused on building trust with your audience by creating content that is hard for them to ignore. While none of this was necessarily common sense, it's a testament to how good the content - and delivery - is, when you walk away feeling link it is. "Well, duh. Of course this is what I should be doing".
Ultimately, here's the thing … the tactics used to execute the inbound methodology will always evolve. We're now delivering content in video format, interacting with customers via chat bots, deploying better software tools to streamline the process. However, the core principles, have been the same, and will remain the same. Deliver the right message, to the right person, at the right time. Turns out, the future of inbound marketing is now.