LFR Partnership to Feature Digital Marketing Event in Chicago
by Kevin Hofer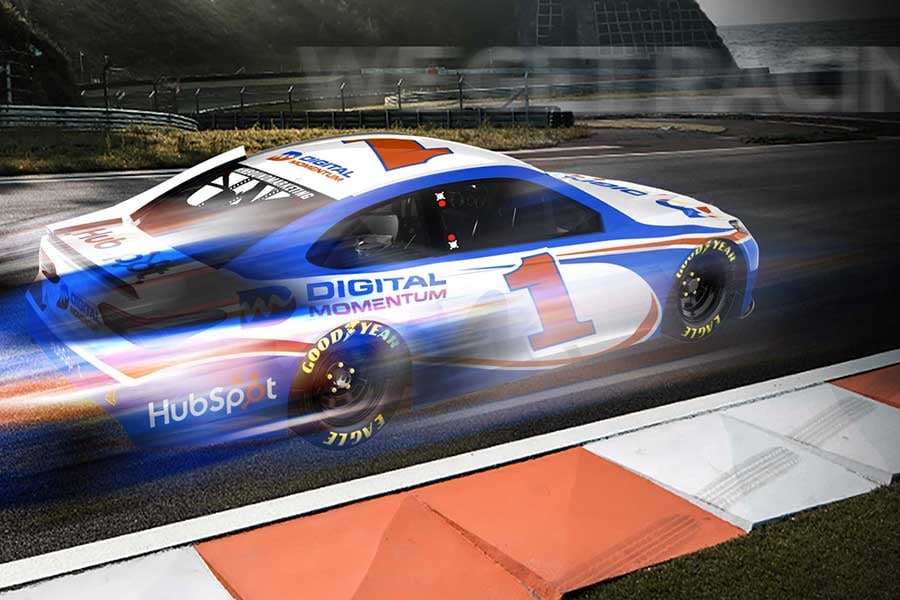 CONCORD, N.C. (May 7, 2019) – Leavine Family Racing (LFR) is proud to feature a paint scheme aboard the No. 95 Toyota Camry this weekend at Kansas Speedway highlighting Digital Momentum and HubSpot. The paint scheme is a partnership between the organizations to announce a brand-new digital marketing event that will take place in Chicago, Illinois this June.
In partnership with Digital Momentum, LFR launched a digital marketing program in 2018 to augment their business development efforts. Sponsorship sales is a consistent challenge for all in racing, and the team discovered what many sales and marketing professionals in other industries are also experiencing. That is, traditional sales and marketing tactics have become less and less effective, and it is harder and harder to achieve positive sales and marketing outcomes while delivering a solid return on investment. Ultimately, this is why the team decided to take a not-so-traditional approach to tackling a traditional problem and partnered with Digital Momentum on an inbound marketing strategy.

The content-driven digital marketing approach is anchored by the LFR Partner Blog; a new section of the team's website where the team regularly publishes content about NASCAR sponsorship. Here, prospective sponsors – or those just interested in learning more about the space – will find blog posts on topics such as: what a sponsorship costs, different points of entry into a NASCAR sponsorship, and the importance of activation.

"Digital Momentum has provided us with a unique method to generate leads through HubSpot and their inbound marketing approach," stated Jeremy Davidson, Vice President of Sales and Marketing for Leavine Family Racing. "The tools we utilize from Digital Momentum and HubSpot allow Leavine Family Racing to stand apart from our competition, all while providing value and sharing helpful content around our industry."

The idea for this partnership – and the centerpiece event adjacent to the Chicago NASCAR race in June – grew organically out of the groups' work together over the last few months. The event, produced by Digital Momentum and co-sponsored by LFR and HubSpot, is an opportunity for businesses to learn how they can #growbetter in the digital age. In an era where buying behavior has changed dramatically, it is imperative that businesses modernize their marketing machine, or risk being left behind by the competition.

"As a certified HubSpot agency partner, one of Digital Momentum's goals is to educate, enlighten and inform organizations about the benefits of a digital marketing strategy rooted in the inbound methodology", said Chuck Tate, President of Digital Momentum. "This partnership with LFR provides a platform for us to spread that message to a wide audience, while at the same time, showcasing how inbound tactics can be coupled with traditional outbound activities to level up your sales and marketing game."
The panel of industry-expert speakers assembled for this half-day event will be anchored by Dan Tyre, Sales Director at HubSpot, and an original member of the HubSpot team. Representatives from LFR will also be there to share their experience and what they've learned on their digital marketing journey. For more information and to register to attend this event, for free, visit: https://digmo.co/GrowBetter.

The No. 95 Digital Momentum/HubSpot Toyota Camry will make its debut on the track this weekend at Kansas Speedway in the Digital Ally 400 on Saturday, May 11, 2019. The race will begin at 7:30pm EST on May 11th and will be broadcast live on FOX Sports 1, Sirius XM Channel 90 and MRN Radio.

- LFR -

About Digital Momentum:

For over 20 years, Digital Momentum (formerly RACERSITES) has delivered winning digital marketing solutions to top brands in the motorsport and automotive performance industries. A HubSpot Certified Agency Partner, Digital Momentum helps companies grow by combining their industry-specific knowledge with user-centric web design and development principles, along with the inbound marketing methodology, to deliver marketing you can measure. For more information, visit: www.digitalmomentum.com.

About HubSpot:

HubSpot is a leading growth platform. Since 2006, HubSpot has been on a mission to make the world more inbound. Today, over 48,000 total customers in more than 100 countries use HubSpot's award-winning software, services, and support to transform the way they attract, engage, and delight customers. Comprised of Marketing Hub, Sales Hub, Service Hub, and a powerful free CRM, HubSpot gives companies the tools they need to manage the customer experience from awareness to advocacy.

HubSpot has been named a top place to work by Glassdoor, Fortune, The Boston Globe, and The Boston Business Journal. The company is headquartered in Cambridge, MA with offices in Dublin, Ireland (EMEA HQ); Singapore; Sydney, Australia; Tokyo, Japan; Berlin, Germany; and Portsmouth, NH. For more information, visit: www.HubSpot.com.

About Leavine Family Racing:

Leavine Family Racing is an organization competing in the Monster Energy NASCAR Cup Series focused on growing competitively and providing results-driven partnerships for its sponsors. The single-car team was founded in 2011 by Bob and Sharon Leavine, two individuals who are passionate about NASCAR and started the team to make a positive impact on the sport and community. Matt DiBenedetto will pilot the No. 95 Toyota Camry for the team starting with the 2019 season. In alliance with Joe Gibbs Racing and Toyota Racing Development, the team operates out of their Concord, N.C.-based race shop with a veteran group of racing personnel driven by their desire for progress. For more information, please visit www.LFR95.com.